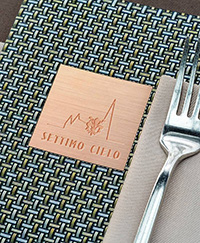 From Monday to Friday, we do serve a daily changing 2-course Business Lunch. No matter if you just need a break from the office or if you wan to join business partners for a quick bite to eat – this is the perfect location for it.
The Ristorante Settimo Cielo offers the perfect setting for your Christmas Party, no matter if it's a business or private get-together.
We will be happy to help you organise the perfect end-of-year lunch or dinner – please ask for our special menus and offers.
Private restaurant hire possible.
For further information and reservation please contact our Restaurant manager:
Mr Anton Schultes
Tel: +43 1 512 38 75
Fax: +43 1 512 96 98
Email: restaurant@settimocielo.at