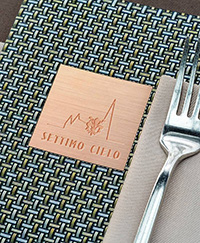 Here's a little foretaste of our DAILY FRESH LUNCH MENU.
To pick up your lunch menu is also possible.
Opening hours: 12.00 - 15.00 hours & 18.00 - 22.00 hours
Please order under Tel: +43 1 515 68 75 or royal@kremslehnerhotels.at
Every Saturday from 11 a.m. to 3 p.m. our table brunch for EUR 45.00 per person takes place in the Ristorante Settimo Cielo!
Spend a nice Saturday with your loved ones and enjoy our delicacies - before or after a shopping spree in the city!
table brunch on May 27th, 2023
Gift-Vouchers can be purchased online on our homepage or directly at our reception desk.
The Ristorante Settimo Cielo offers the perfect setting for your Christmas Party, no matter if it's a business or private get-together.
We will be happy to help you organise the perfect end-of-year lunch or dinner – please ask for our special menus and offers.
Private restaurant hire possible.
For further information and reservation please contact our Restaurant manager:
Ms Sarah Kaindl
Tel: +43 1 512 38 75
Fax: +43 1 512 96 98
Email: restaurant@settimocielo.at